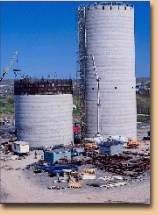 Forster Company, Inc. is a multi-national professional services corporation headquartered in Los Angeles, California specializing in all phases of construction related activities. Feature areas include:
Venture Capital Funding
Refining and Petrochemical Services
Power and energy
Construction Management
Geotechnical Investigation
Environmental Consulting
Construction Inspection
Materials Testing
Community Relations.

Forster Company, Inc. Is 100% minority owned and has been fully MBE/DBE and WMBE certified by many agencies.
Our Principals and associates have over 60 years of proven track record on implementing complex public works projects from planning through construction and startup. We are fully staffed to provide project managers, engineers, schedulers, cost estimators, inspectors, and administrative personnel as our Clientís needs dictate.
Forster Company, Inc. has worked on numerous project varying in size from single-story buildings to complex high-rise structures, including hospitals, public works, transportation, and water supply projects. We view each Client and project as a new challenge with their own requirements and individual needs. To each new challenge, we bring our expertise, assess the projectís unique requirements and match the appropriate individuals and necessary resources with our Clientís need.
EXPERTISE IN MANY DISPILINES
Construction programs are infinitely complex regardless of size. Thousands of decisions must be made. The expertise required may be made. The expertise required may be unrelated or outside the resources you have at your disposal. Our services provide the wide range of disciplines and talents necessary to best utilize and augment your own resources. Our professionals deal with these complex issues daily, and keep technologies in such area as estimating, scheduling, cash flow projections, contract administration, management information and construction site safety.

OBJECTIVITY AMIDST COMPETING PERSPECTIVE
Capital construction projects require the participation of a variety of players, including policy maker, financial advisors, architects, engineers, planners, programmers, contractors, end users and many more. Each group has distinct motivations and obligations. The success of the project requires that someone lead, coordinate and balance those motivations and obligations. Our project team provides that leadership and objectivity.

THE FORSTER COMPANY DIFFERENCE
A capital construction project is a long-term undertaking. The team assembled to carry it out must be able to work together, communicate and keep the end result in a mind for the long haul. Choosing your project, management team is critical to the success of your project. We are unique in our attitude, our experience, our people, our resources and the commitment of our senior management to your project.

EXPERIENCED PEOPLE
Our people are professional with years of experience and up-to-the-minute training in every aspect of capital facility development. We apply the experience we've gained with past projects without losing sight of the uniqueness of yours. Our background is unparalleled in such areas as financing the unique needs and requirements of public facilities and the regulatory and approval processes.